Educational Resources
The Field Museum has many learning programs for every age group that address life in the ancient Americas and the science of archaeology. To learn more about educator workshops, student internships, and other opportunities, please see our Educator Programs. For information on events and activities for families, please visit our Family Programs page.
EXPEDITIONS' EDUCATIONAL MATERIALS
One of the goals of Expeditions at The Field Museum is to help you incorporate science, research and discovery into your classroom. By following along with some of the world's best scientists, your students are introduced to the process of scientific discovery first-hand, and along the way are among the first to learn about amazing finds direct from the field. The activities suggested here are intended to help engage your students with the material presented on the website and through the reports from the field. Each lesson is created from the concepts that the scientists base their research on and is aligned with Illinois State and National content standards.
LESSON PLANS (PDF files)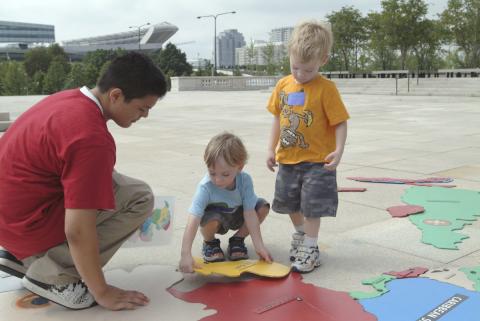 Elementary:
Intermediate & High School:
FOR EDUCATORS & PARENTS
N.W. Harris Learning Center
Specimens and artifacts from the N. W. Harris Learning Collection at The Field Museum give educators and parents the chance to take the Museum's collection to their classrooms or homes. With over 400 unique Exhibit Cases (mini-dioramas) and 70 Experience Boxes (hands-on kits) your options are endless! Take a look at just a few of the many archaeology-related Exhibition & Experience Boxes you can enjoy below:
Living Together Experience Box: Shelter
Grade Level: Early Elementary, Elementary
People everywhere must find food and shelter. We respond to this concern in different ways, shaped by our environment, by history, and by human creativity. Use this box to infer the locations of shelters based on their size and the materials used to construct them. Challenge yourself to create a shelter that meets specific environment and material requirements. Finally, design the perfect shelter for your community!
 
Living Together Experience Box: Shoes
Grade Level: Early Elementary, Elementary, Middle School
By examining shoes, we can explore what is unique to individuals as well as needs of individuals shared around the world. This box contains various shoes from diverse cultures. Use them to discuss measurement by analyzing and comparing different shoes and their sizes. Practice classification and categorization by sorting the shoes into different groups. Finally, analyze Van Gogh's shoe paintings and create your own interpretation of his work.
EDUCATOR GUIDES
The Museum's Educator Guides provide detailed information for educators to plan focused field trips aligned with Illinois State Learning Standards. Each guide presents an exhibition introduction, gallery overviews, guiding questions, and pre-during-post field trip ideas. Download our PDF Educator Guides to help you plan a successful, meaningful field trip for your students.
Crown Family PlayLab Educator Guide Dig in ... Dress up... Explore and grow! The Field Museum is pleased to present the Crown Family PlayLab, an early childhood learning center for pre-K-2 students.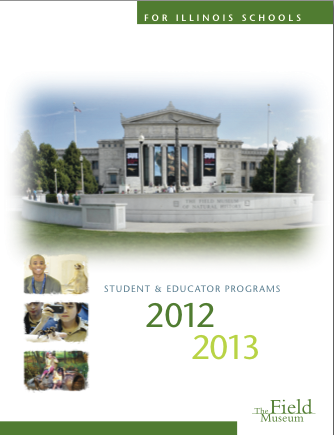 STUDENT PROGRAMS
Looking to engage your students in hands-on investigations and immersive experiences while at the Museum? Book a student program! For a complete listing and details about preparing for and scheduling student field trips, please view our Field Trip Programs page, where you can download our Student & Educator Program Catalog or sign up for field trips via our Illinois Online Registration Form or Out-of-State Online Registration Form.
Unless otherwise noted, student programs listed in this section are available Mondays, Thursdays, and Fridays at 10am - 12:30pm, including 30 minutes for lunch. Maximum of 35 students per program. Cost is $4.50 per student.
GRADES PRE-K - 2
PlayLab Self-Guided Exploration
Young adventurers have the chance to explore the Crown Family PlayLab, where students can put on animals costume to crawl, hop, or fly! From digging up dinosaur bones to grinding corn in a Pueblo, to handling real specimens of rocks, minerals, and more, little explorers can choose from an endless variety of activities.
Meets ILS goals in English Language Arts, Science, Social Science, Fine Arts.
Available Mondays, Thursdays and Fridays at 10am or 11am.
Program is free for pre-registered groups.
GRADES 3-12
Egypt Unwrapped
Investigate the myths and lore of the ancient gods and goddesses of Egypt. Wrap a mummy replica and participate in a wailing ceremony to discover the symbolism and science behind traveling to the afterlife. After hearing about the history and practices of mummification, travel through Inside Ancient Egypt to find real mummies, and images of rulers and gods!
Meets ILS goals 16, 17, 18.
 
The Art of Ancient Pottery
Take part in an activity practiced throughout the early Americas: making pottery! Learn about the lives of past peoples by investigating artifacts. Explore ceramic shards and other materials made and used throughout the Americas, then make your own pottery using only tools and techniques available to early potters! Includes a tour of The Ancient Americas.
Meets ILS goals 16, 17, 27.