Gary M. Feinman Ph.D.
Curator of Mesoamerican Archaeology and Ethnology, The Field Museum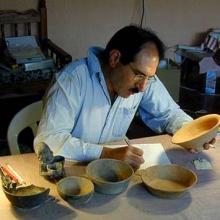 Dr. Gary Feinman has conducted archaeological field research in Oaxaca, Mexico, for more than 30 years. He has led regional settlement pattern surveys in the Valley of Oaxaca and several smaller neighboring valleys and directed excavation of Classic period (A.D. 200-800) houses at two sites. In 2008, Gary completed excavations of prehispanic houses at El Palmillo, a large hilltop terrace site in the eastern Valley of Oaxaca. And in 2009, he began excavations at the Mitla Fortress, another key site in the valley. He is the principal ceramic analyst for the team. An examination of ancient economies is one key theme of this research, as is the nature of past sociopolitical organizations and how they vary and change over time. To learn more about Gary, review his curriculum vitae (CV).