Jason D. Weckstein, Ph.D.
Staff Scientist in the Zoology Department, Bird Division, The Field Museum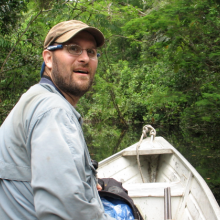 Dr. Jason Weckstein is a Staff Scientist at The Field Museum. He is a Systematic Biologist and studies the evolutionary histories of birds and their associated parasites. He uses host-parasite biodiversity survey data, specimen collections, and molecular genetic tools to study evolutionary interactions between birds and their parasites and uses these model systems to examine the factors that promote the process of diversification and speciation. 
Dr. Weckstein began his career at the University of Minnesota studying the evolutionary history of various groups of North American birds. He received his Ph.D. from Louisiana State University and has been a Postdoctoral fellow at both the Illinois Natural History Survey and The Field Museum and is now a Staff Scientist working on the museum's Emerging Pathogens Project.
His dissertation research focused on reconstructing evolutionary history and color-pattern evolution for the Ramphastos toucans and coevolutionary history of the toucans and their parasites. He has published more than 30 scientific papers including works on North American, Neotropical, and African birds and their parasites, which has taken him on field expeditions to collect specimens in the United States, Canada, Ghana, South Africa, Malawi, Nicaragua, and Brazil.