John Bates, Ph.D.
Associate Curator, Zoology Department, Bird Division, The Field Museum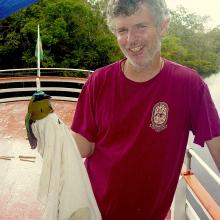 Dr. John Bates is Associate Curator of the Division of Birds at The Field Museum, where he has been a member of the staff since 1996. As part of his current duties, he advises graduate students at the University of Chicago, where he is a member of the Committee on Evolutionary Biology, and at the University of Illinois at Chicago.
Bates and his students study genetic structure in tropical organisms to understand evolutionary patterns and processes and inform conservation decisions in the tropics of South America and Africa. His doctoral students have come from the U.S., but also Peru, Brazil, Argentina, and the Democratic Republic of Congo.
Dr. Bates began his career at the University of Arizona studying the winter ecology of Gray Vireos in Sonora, Mexico. He received his Ph.D. from Louisiana State University and was a Chapman Post-doctoral fellow at the American Museum of Natural History. He conducted his dissertation research on the genetic effects of forest fragmentation on five species of forest understory birds in northeastern Santa Cruz, Bolivia.
Dr. Bates first worked in Brazil as a bird-bander on the Biological Dynamics of Forest Fragments project outside Manaus. He has publish more than 70 scientific papers, including works on the genetic structure of birds of Amazonian South America, as well as papers on the biogeography of tropical birds and what these patterns mean for conservation priorities.