Educational Resources
The Field Museum has many learning programs that address geology, fossils, rocks, and minerals for every age group. To learn more about educator workshops, student internships, and other opportunities, please see our Educator Programs. For information on events and activities for families, please visit our Family Programs page.
TEEN DIGITAL MEDIA PROGRAMS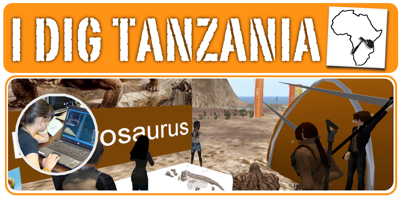 I Dig Science
Use virtual worlds to experience a scientific expedition without leaving Chicago! Teens go behind the scenes to excavate virtual fossils, create a virtual museum exhibit, and collaborate in real time with teens across the country and international paleontologists digging in Africa.
FOR EDUCATORS & PARENTS
N.W. Harris Learning Center
Specimens and artifacts from the N. W. Harris Learning Collection at The Field Museum give educators and parents the chance to take the Museum's collection to their classrooms or homes. With over 400 unique Exhibit Cases (mini-dioramas) and 70 Experience Boxes (hands-on kits) your options are endless! Take a look at just a few of the many geology-related Exhibition & Experience Boxes you can enjoy below:
Rocks & Minerals Experience Box
Grade Level:  Elementary, Middle School
Rocks and minerals are the solid substances that make up Earth—and meteorites. Just like all matter on Earth, rocks and minerals are part of a constantly shifting system that cycles through changes, in this case, the rock cycle. In this experience box, students will observe samples of rocks and minerals to investigate physical and chemical properties, explore how these substances change over time, and analyze the way humans use rocks and minerals.
 
Interior of the Earth Exhibit Case
Grade Level:  Early Elementary, Elementary, Middle School, High School
Dig underneath the Earth's surface to get a glimpse of the great stratification found there. Examine the surface and notice how much denser and more compact the inward layers become. These same forces are at work in asteroids and other planetary bodies.
EDUCATOR GUIDES
Evolving Planet Educator Guide
Travel back through time to learn how evolution has created the mosaic of life on Earth.
Crown Family PlayLab Educator Guide
Dig in ... Dress up... Explore and grow! The Field Museum is pleased to present the Crown Family PlayLab, an early childhood learning center for pre-K-2 students.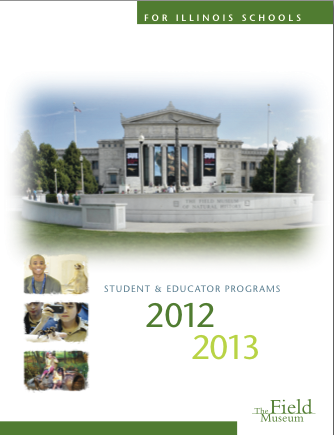 STUDENT PROGRAMS
For a complete listing and details about preparing for and scheduling student field trips, please view our Field Trip Programs page, where you can download our Student & Educator Program Catalog or sign up for field trips via our Illinois Online Registration Form or Out-of-State Online Registration Form.
Unless otherwise noted, student programs listed in this section are available Mondays, Thursdays, and Fridays at 10am or 11am. Maximum of 35 students for all programs.
GRADES PRE-K - 2
PlayLab Self-Guided Exploration
Young adventurers have the chance to explore the Crown Family PlayLab! Students can put on animals costume to crawl, hop, or fly! From digging up dinosaur bones to grinding corn in a Pueblo, to handling real specimens of rocks, minerals, and more, little explorers can choose from an endless variety of activities.
Meets ILS goals in English Language Arts, Science, Social Science, Fine Arts.
Program is free for pre-registration groups.
PlayLab Fossil Dig
Come join us on a paleontology dig! Discover different fossil types and help dig out a fossil cast from a field jacket.
Meets ILS goals 7, 12, 16.
Cost is $2.50/student.
GRADES 3-8
The Great Fossil Hunt
Learn how to identify a real fossil and how to create a dig pit grid system to help you remember the location of your fossils. Students practice scientific illustration and make inferences about the origins of fossils. This hands-on class incorporates paleontology with the adventure of a mini-dig...this is one Great Fossil Hunt you won't want your students to miss! Includes a tour of Evolving Planet for groups that come to the Museum.
Meets ILS goals 11, 12, 13.