Corrie S. Moreau, Ph.D.
Assistant Curator, Division of Insects, The Field Museum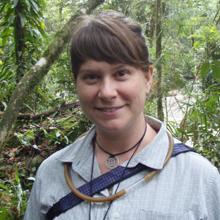 Dr. Corrie S. Moreau is an Associate Curator in the Division of Insects at The Field Museum. Dr. Moreau joined the scientific staff in August 2008 after completing her Ph.D. at Harvard University and her post-doctoral research at U.C. Berkeley. In addition to her current duties at The Field Museum, she teaches and advises students at the University of Chicago, where she is a member of the Committee on Evolutionary Biology.
Dr. Moreau's research focuses on using molecular genetic techniques to better understand evolutionary patterns in ants. In particular, she is interested in the origin and evolution of species and how different factors may influence patterns of diversification.
Research on ants has taken Corrie all around the world, including Australia, Borneo, Madagascar, South Africa, Ecuador, Peru, Uganda, Venezuela, and all over the United States.