In the News
Keep up on the latest headlines featuring the work of Dr. Moreau and her team! Watch videos, listen to podcasts, and check out recent publications that highlight the Moreau Lab's ongoing research on ant diversity!
VIDEOS & PODCASTS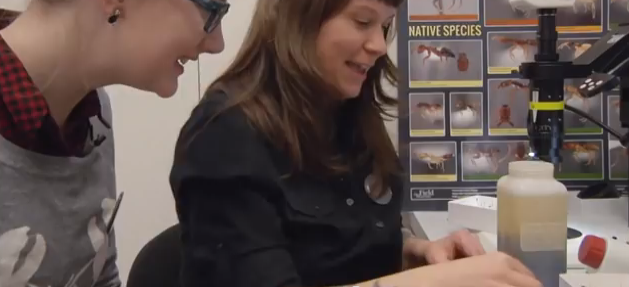 "Romantic Ants:" Catch Brainscoop with Emily Graslie as Dr. Corrie Moreau introduces her to turtle, army, and bullet ants and explains the basics of ant romance, inluding the not-so-romantic ways they share gut bacteria.
"Turtle Ants:" In this episode of The Field Revealed, you'll discover more details about turtle ants—which have a dish-like head that they used to block the door to their nest—and you'll find out how Dr. Moreau studies the genetics of these ants and their gut bacteria to learn more about how they've co-evolved together.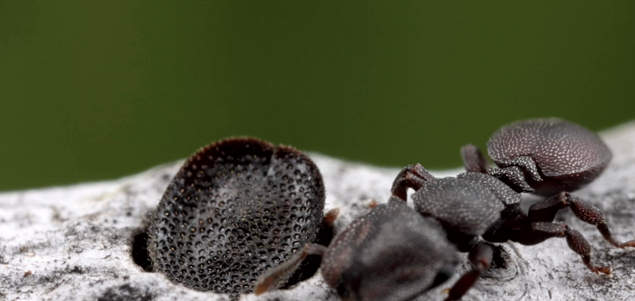 101.9 Mix Matters: Listen to a podcast interview featuring Dr. Moreau as she discusses her lifetime interest in ants and many of the fun facts and topics covered in The Field Museum's exhibition The Romance of Ants.
ONLINE ARTICLES
"Why the Tropics are an Evolutionary Hotbed:" Discover some of the reasons why the New World tropics might be such a hotbed of ant diversity in this Nature magazine article and interview with Dr. Corrie Moreau.

"Scientists in North Carolina Will Take Close Look at Ants from Chicago:" Read a Chicago Tribune article describing how Dr. Moreau's lab is assisting the School of Ants team at North Carolina State University as part of a national effort to identify and map the diversity of ants in the U.S.
Sciencewatch: Check out an interview with Dr. Moreau highlighting her groundbreaking work and publication on the age of ants, which was featured as part of an ongoing series about emerging research fronts.
"Cool Science Job in Chicago: Studying Ants at The Field Museum:" At LetUbeU.com, find out more about how Dr. Moreau became as scientist and the many cool ways she spends her day as a Curator of Insects for The Field Museum.

"Not All the Bugs in Your Home are Bad:" Check out Dr. Moreau's guest blog posting on yourwildlife.org to learn why bugs and bacteria in the home aren't always a bad thing.
"Serious Science, Comic-book Style" American Scientist: Take a look at this American Scientist article to learn more about Dr. Moreau and Alexandra Westrich, an artist and aspiring entomologist working in Moreau's laboratory who created the artwork for The Field Museum's exhibition The Romance of Ants.