Paula Mikkelsen, Ph.D.
Associate Director for Science & Director of Publications, Paleontological Research Institution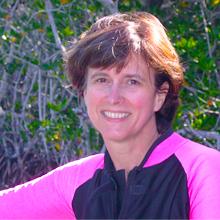 Dr. Paula Mikkelsen studies the systematics, anatomy, and biodiversity of marine mollusks. She received her B.S. from Bates College in 1976 and her Ph.D. from the Florida Institute of Technology in 1994. She was Curator of Mollusks at the Delaware Museum of Natural History and the American Museum of Natural History before becoming the Paleontological Research Institute's Associate Director for Science and Director of Publications. She is a past president of the American Malacological Society, and a Research Associate at The Field Museum.
Dr. Mikkelsen has written more than 50 research papers, contributed volumes, and books, including Pearls: a Natural History (2001, Abrams) and Seashells of Southern Florida: Bivalves (2008, Princeton University Press). Her primary role in BivAToL is lead investigator of the outreach activities of the grant. She will also contribute morphological investigations of bivalve gills.