Nathan D. Smith, Ph.D.
Research Associate, The Field Museum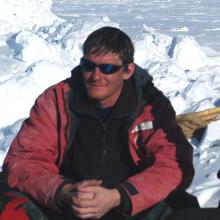 Dr. Nathan Smith is currently an Assistant Professor at Howard University and a Research Associate at The Field Museum of Natural History in Chicago, and serves on the advisory board of the Augustana College Center for Polar Studies. He was also a team member on the Augustana College 2003 expedition to Antarctica, when the team discovered an additional site that contains the bones of sauropodomorph (long-necked plant-eater) Glacialisaurus hammeri. 
In 2012, Dr. Smith completed his Ph.D. at the University of Chicago, and has received Master's Degrees in Geoscience from the University of Iowa, and in Evolutionary Biology from the University of Chicago. He holds a Bachelor of Arts in biology with a minor in geology from Augustana College in Rock Island, Illinois.
Dr. Smith has conducted paleontological fieldwork in Antarctica, Argentina, China, and the southwestern and western United States, and his research has resulted in more than a dozen scientific papers, including articles in Science, Systematic Biology, and the Journal of Vertebrate Paleontology.