Peter J. Makovicky, Ph.D.
Associate Curator, Paleontology, and Chair, Department of Geology The Field Museum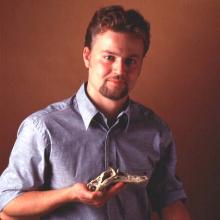 Pete Makovicky is Associate Curator of Paleontology and Chair of the Department of Geology at The Field Museum. He is interested in issues relating to Mesozoic biogeography and faunal change, and the interplay between phylogeny and the fossil record.
Dr. Makovicky's research focuses on dinosaurian evolutionary history with a particular emphasis on the clades Ceratopsia (the horned dinosaurs) and Theropoda (carnivorous dinosaurs, including birds). Much of his research has been dedicated to fieldwork-driven documentation of dinosaur biodiversity and systematics, and he has hunted for dinosaurs on five continents. Dr. Makovicky uses dinosaurs as model systems to study broader topics in evolutionary biology. He has also engaged in research on biomechanics, scaling, dinosaur trackways, and behavior.
Dr. Makovicky makes use of many analytical techniques such as Transmitted Light Microscopy, Scanning Electron Microscopy, Energy Dispersive Spectroscopy, Computed Tomography, and laser surface scanning in his research. To learn more, please visit Dr. Makovicky's Field Museum Staff Page.