Paddy Dalton, Ph.D.
Lecturer, School of Plant Science, University of Tasmania, Australia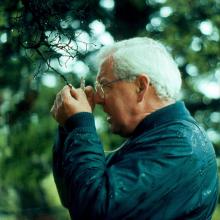 I am currently a lecturer in botany at the School of Plant Science, University of Tasmania. I specialize in the diversity of non-flowering plants, and my excellence in teaching has been recognized in University and National awards.
My passion for the study of the taxonomy and ecology of bryophytes has taken me on extensive fieldwork across Australasia, and I have actively promoted bryology through my editorship of the Australasian Bryological Newsletter for 19 years. I have studied at the Natural History Museum, London, and have published in collaboration with Australian and overseas bryologists.
I was invited to participate in the 2013 expedition to The Cape Horn Archipelago and this provided me the unique opportunity to complete a study of bryophytes across the Gondwanan landscape.
To learn more about my work, please visit my University of Tasmania personal profile.