Hanneke Hoekman-Sites, Ph.D.
Graduate Student, Florida State University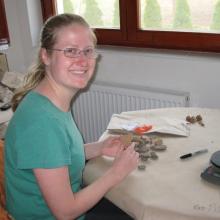 Hanneke Hoekman-Sites recently completed her Ph.D. in the Anthropology Department at Florida State University. She obtained her B.A. in Archaeology and Chemistry from the College of Wooster (Wooster, Ohio) in 2004 and her M.A. in Anthropology from Florida State University (Tallahassee, FL) in 2006. She has worked with Dr. William Parkinson since 2004.
Hanneke's research focuses on how domesticated animals were used in early village societies on the Great Hungarian Plain, and how patterns of use have changed through time from 6000 to 3000 cal. yrs B.C. She studies animal fat residues deposited in ancient ceramic vessels using various chemical analysis methods.
Hanneke has worked with the Koros Regional Archaeological Project since 2005. In addition to ceramic analysis during the field season, she examines animal fat residues in a sample of the ceramics to examine what animal products were used by prehistoric populations living in the Koros region. Residues are identified and analysed using gas chromatography-mass spectrometry (GC/MS). She has tracked the use of the major domesticates through the Neolithic and Copper Age periods in the region, and compared the residue results to the faunal data gathered by other scientists on the project.