Paul R. Duffy, Ph.D.
Social Science and Humanities Research Council of Canada Fellow, University of Toronto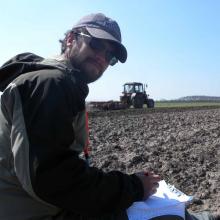 Dr. Paul Duffy has been conducting archaeological fieldwork in Hungary since 2002, but has also worked in Romania and England. Most recently he directed the Bronze Age Körös Off-tell Archaeology (BAKOTA) project, surveying and excavation of Bronze Age settlements in Békés County in an effort to understand the emergence of complex societies in Eastern Europe during later prehistory.
By combining GIS, network models, and excavation of a Middle Bronze Age cremation urn cemetery near the confluence of the ancient Kettős Körös river, Duffy is studying the role of geography in the control of trade and the emergence of political hierarchy during the Bronze Age. His research overlaps with the study of Neolithic and Copper Age societies in the Körös area because subsistence strategies and population movements on the landscape at this time share basic similarities with social dynamics during the Bronze Age. As the research with Parkinson, Gyucha, and Yerkes continues, Dr. Duffy plans to compare the developmental trajectories of three different areas in Bronze-Age Hungary using archaeological evidence collected at the Körös sites.
Paul Duffy received his B.A. from McGill University in Montreal in 2000. He received his M.A in anthropology from the University of Michigan and also completed his Ph.D. there in 2010. He is currently on a postdoctoral fellowship at the University of Toronto.