Nikos Papadopoulos, Ph.D.
Assistant Researcher, Foundation for Research and Technology Hellas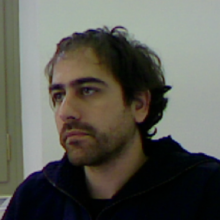 Dr. Nikos Papadopoulos holds a B.A. (2001) in Geology and an M.Sc. (2003) and Ph.D. (2007) in Applied Geophysics from the University of Thessaloniki (Greece). He was a post-doctorate researcher (2008) in the Korean Institute of Geoscience and Mineral Resources (KIGAM). Since 2009, he has been an Assistant Researcher in the Laboratory of Geophysical and Satellite Remote Sensing & Archaeo-environment at the Institute for Mediterranean Studies of F.O.R.T.H.  
His research activities and interests are focused on Geology and Applied Geophysics, on the Development of 2D/3D Resistivity Inversion Algorithms, on Applying Geophysical Prospection Methods for Archaeological, Geological, Geotechnical, and Environmental problems, and on Signal Processing, Mapping, and Modelling techniques.  
He has participated in and/or organized more than 50 geophysical projects in Greece, Cyprus, Hungary, and Korea. He has also participated in more than 20 Greek and international large-scale Projects (Archaeolandscales, STAR-LAB, LIFE a.o.). He has also participated in more than 20 international conferences, and he is the author or co-author of more than 50 papers in peer-reviewed journals and conference proceedings.  
Dr. Papadopoulos participates in the Review Committees of various scientific journals (e.g. Journal of Applied Geophysics, Geophysical Journal International, Near Surface Geophysics, Journal of Environmental Geology, Journal of Archaeological Science a.o.) and he is Associate Editor of the Archaeo-Tilepiskopika Nea. Involved in the Körös Regional Archaeological Project in Hungary since 2006, Dr. Papadopoulos has undertaken part of the geophysical prospection of a number of sites in the region for the project.