Julia I. Giblin, Ph.D.
Assistant Professor of Anthropology, Quinnipiac University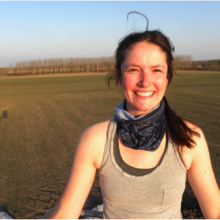 Dr. Julia I. Giblin received her B.A. from Florida State University in 2005 and her M.A. (2007) and Ph.D. (2011) from The Ohio State University. She is currently an Assistant Professor of Anthropology at Quinnipiac University.
Julia started working with the Körös Regional Archaeological Project as an undergraduate NSF funded fieldschool student in 2003. Since then, she has participated in several field seasons and conducted her undergraduate honors thesis, M.A, and dissertation projects on material from Eastern Hungary. As an anthropological archaeologist, Julia studies the dynamics between subsistence strategy, mobility and social organization in Europe's prehistoric agricultural communities. She is interested in how early farming tribal societies used and defined their landscape from both an economic and cultural perspective, and in turn, how this reflects social organization and development through time.
Methodologically, she uses techniques from bioarchaeology and biogeochemistry to test hypotheses about changes in dietary and mobility patterns from the Neolithic to the Bronze Age. Julia is also a member of the Bronze Age Körös Off-tell Archaeology (BAKOTA) project, directed by Dr. Paul R. Duffy. For more information, please visit Dr. Giblin's website.