Danielle Riebe
Graduate Student, University of Illinois at Chicago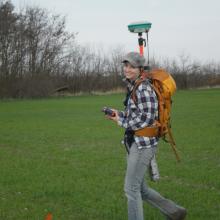 Danielle Riebe is a graduate student in the Anthropology Department at the University of Illinois at Chicago. She obtained her B.A. in Archaeology from the University of Evansville in 2008 and since 2009, has worked for Dr. William Parkinson as a Graduate Research Assistant at The Field Museum.  
Danielle's research focuses on the changes in social boundaries over time. Specifically, she looks at how boundaries on the Great Hungarian Plain during the Neolithic were created, enforced, and/or dissolved and the causes for these changes.
Having participated in projects around the world, Danielle's most recent work is in Hungary working with the Körös Regional Archaeological Project. In addition to helping map the topography of the sites investigated by KRAP, she also is using the technique of Laser Ablation-Inductively Coupled Plasma-Mass Spectrometry (LA-ICP-MS) to isolate the chemical composition of ceramics. This will determine if ceramics were produced locally or if they were imported from other areas. The data generated will help to elucidate interaction on the Plain, as well as provide another line of evidence for understanding the growing social complexity that occurred during the Neolithic.